Winford Breda Basisonderwijs is een particuliere basisschool in Breda. 

Winford is in Breda zowel actief als een particuliere school voor het basisonderwijs als een particuliere academy met voortgezet onderwijs.
Bij Winford Breda Basisonderwijs worden talenten ontdekt en gestimuleerd. Het onderwijssysteem kenmerkt zich door een persoonlijke en flexibele aanpak. Elke leerling heeft tenslotte andere behoeften.
Pluspunten
Kleine klassen
Veel persoonlijke aandacht
Oog voor elke leerling
Tussentijdse instroom
Geen lesuitval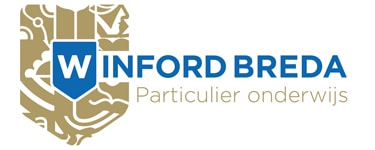 Service
U kunt met de school in contact treden via de onderstaande buttons.
Karakteristiek
Basisonderwijs
8 leerlingen per groep
30 leerlingen in totaal
Groep 1 t/m 8
Meer over de Winford Basisonderwijs in Breda.
Talent ontdekken
Kinderen en jongeren weten vaak (nog) niet waar hun talenten liggen. Soms liggen deze talenten elders dan alleen in een opleiding. Misschien is uw zoon of dochter erg goed in een bepaalde sport, zeer muzikaal of een getalenteerd creatief fotograaf. Winford biedt de ruimte dit talent verder te ontwikkelen en denken niet in standaard (onderwijs)patronen.
Ons onderwijs
Om het talent van de leerlingen optimaal te coachen is er sprake van permanente monitoring met toetsing aan een individueel leerplan. Uiteraard ontbreekt op onze basisschool ook de sportieve, culturele en creatieve aanpak niet in ons onderwijs. Met de hulp van vakleerkrachten en thematische aanpak van de zaakvakken behandelen we altijd verrassende en vernieuwende onderwerpen. We hebben vakleerkrachten voor Engels, cultuur, sport en handvaardigheid.
   
Kleine klassen
Door te werken met kleine klassen en individuele ontwikkelingsplannen is er meer oprechte aandacht voor het kind. Gericht op scholing maar óók de sociale ontwikkeling heeft hoge prioriteit.
Persoonlijk gesprek
De juiste keuze maken als het gaat om onderwijs is belangrijk. Om een goed beeld te krijgen van onze school en onderwijsvorm, kunt u terecht voor een persoonlijk gesprek. Uitgebreide regionale informatie, vindt u op de pagina "Informatie of vergelijken van scholen in het basisonderwijs".

Contactgegevens


Winford Basisschool, Cimburglaan 98k, 
4819 BD, Breda info@winfordbreda.nl Telefoon: 
076-2059066