The Amsterdam Business School (ABS) is part of the University of Amsterdam, Economics and Business. The School belongs to the 1% of the business schools in the world with a Triple Crown accreditation. We provide courses for the Bachelor and Master and we offer MBA and Executive Education. Our program includes Bachelor's programmes and Executives Master's programmes that confer a MSc degree upon completion.
If you are excited about subjects like artificial intelligence (AI) and computer science, our BSc Business Analytics could be for you. Nowadays, organisations deal with huge amounts of freely accessible and interconnected data. In this newly developed Bachelor's you learn how to help organisations use this 'big data' to improve their performance. A profession that is in rapidly-growing demand on the job market.
Getting your MBA at the Amsterdam Business School is investing in your personal business skills. Our MBA programmes prepare you to thrive in today's international business environment. If you are an aspiring or senior professional and if you seek to add more depth to your knowledge, take a look at our Executive Education. We offer Executive Masters, Executive Programmes and Open Programmes in several business-related fields.
Nederlandstalige versie:
De Amsterdam Business School biedt een internationale leeromgeving voor management en business studies. De business school onderscheidt zich in onderzoek-gebaseerd onderwijs. Amsterdam Business School wil daarnaast ondernemerschap, sociale verantwoordelijkheid en kritisch denken stimuleren.
De Amsterdam Business School biedt onderwijs aan op verschillende niveaus: van Bachelor tot PHD in verschillende business en management richting als Bedrijfskunde, Marketing, Accountancy en sinds kort de innovatieve MBA Bid Data & Business Analytics. Deze opleidingen worden aangeboden in kleinschalige internationale context.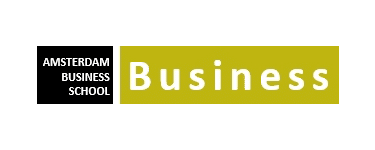 ---